How our cosmetic hair growth treatment can help
Thinning at the crown
As the original hair gets thicker, healthy-looking strands will grow as well. This will make the thinning crown much less visible and give you a fuller-looking head of hair.
Thinning all over
Over time, as healthy-looking hairs start to grow, they will gradually become longer, thicker, and stronger. As a result, the scalp will become much less noticeable.
Receding hairline
The front part of your hair tends to show quicker progress because it's easier for healthy-looking hairs to grow there. Our treatments will make your hairline appear fuller and thicken the hair you already have in that area.
What to expect from our cosmetic hair growth treatments
The first 2-3 months

Typically speaking, it takes about 2 – 3 months of continual use to start to see results with Regrowz. After this time, you should start to notice thicker hair and healthy-looking hair growth in areas previously weak.

Months 3-6

From Months 3 – 6 your hair should be significantly stronger and previously thin areas will start to look fuller. You must still maintain consistency of use to continue to see the benefits of Regrowz on your hair.

After 6 months

After 6 months you should have fuller, thicker and nourished hair. However now is not the time to be complacent, and the regular use of Regrowz will consolidate, strengthen and retain your healthy-looking head of hair going forward.
Please note results may vary between individuals
Real Regrowz Treatment Results
Before / After
Before/After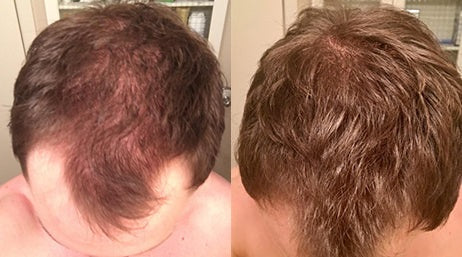 Before / After
Before / After
As seen in