Regular price
$73.00
Sale price
$52.00
Unit price
per
You Save 29%
Sold out
Proven Results

No Nasty Chemicals

30 Day Money Back Guarantee

Next Day Delivery*
Ready to stop hair loss in its tracks? Hair loss affect millions across the globe, but it shouldn't take over your life. If you want to tackle hair loss and enjoy thicker, healthier and fuller hair, then we're ready to help.
Regrowz is specially formulated to address hair and scalp issues and is proven to thicken your existing hair and increase hair growth. Not to mention, it's 100% natural and vegan - no nasty chemicals being applied to your scalp and skin. 
For best results, keep using Regrowz indefinitely as part of your usual care routine - you should see an ongoing improvement in your hair growth and find that new and existing hairs stay where you want them – on your head!
Order before 2pm Monday-Friday for same day dispatch. All orders are sent using Royal Mail Tracked 24. We offer a 30 day Money Back Guarantee.
View full details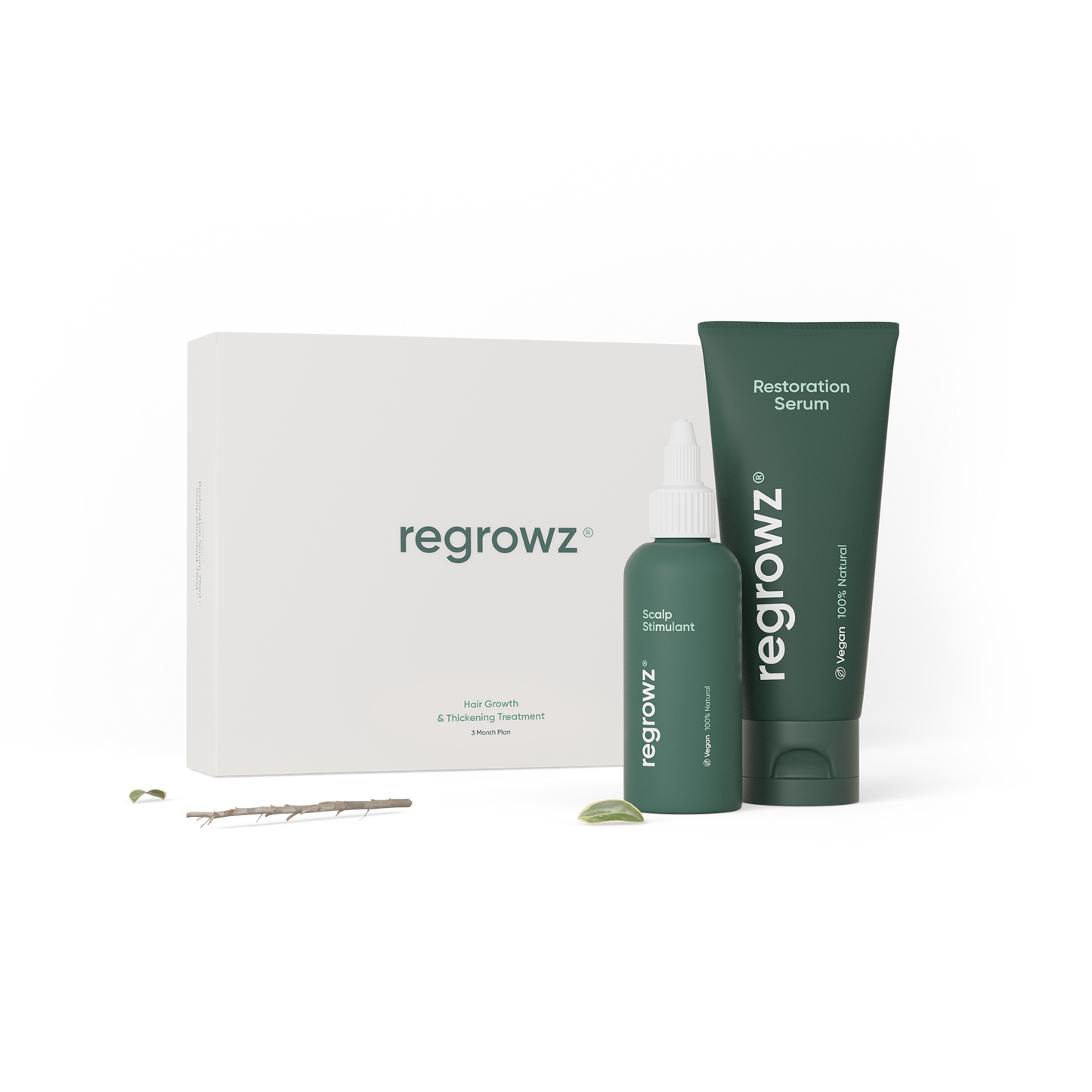 Why Buy Our Hair Growth Treatment
Rich in amino acids and beta carotene to prevent hair thinning and hair loss.
Our plant based formula improves scalp health, which helps with the speed of hair growth.
Our bespoke formula helps to stimulate existing hair, speeding up the hair growth process.
Existing hairs thicken and strengthen, leading to a thicker and healthier scalp.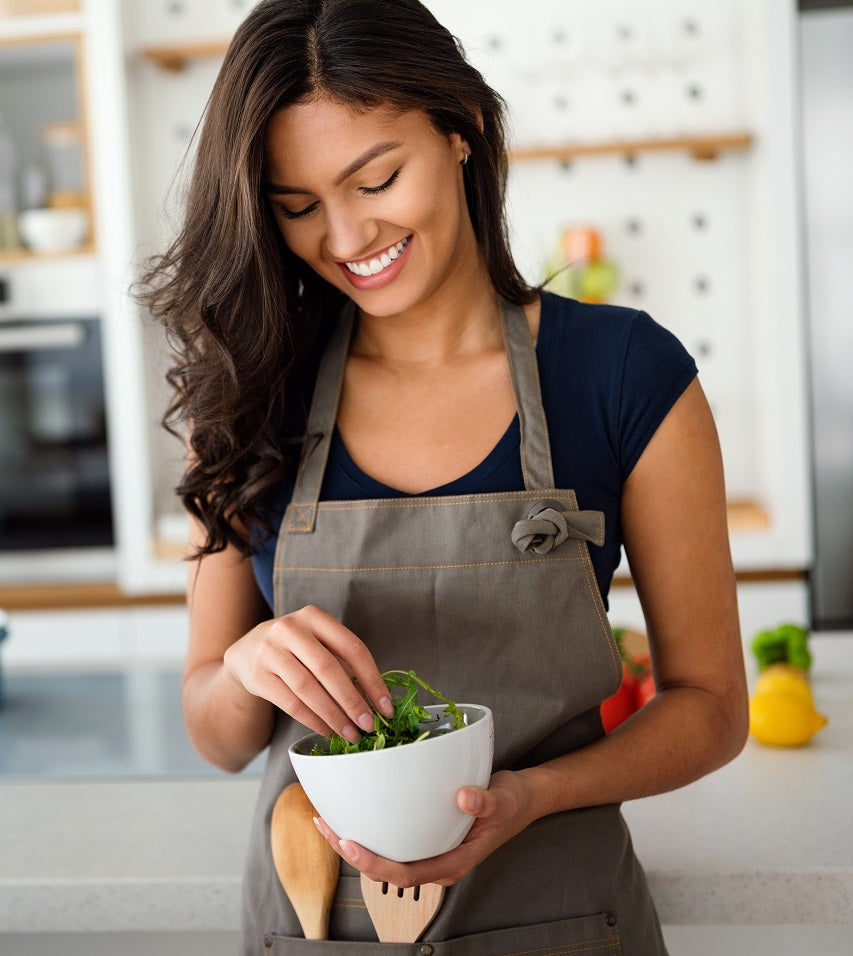 How To Use Our Hair Growth Treatment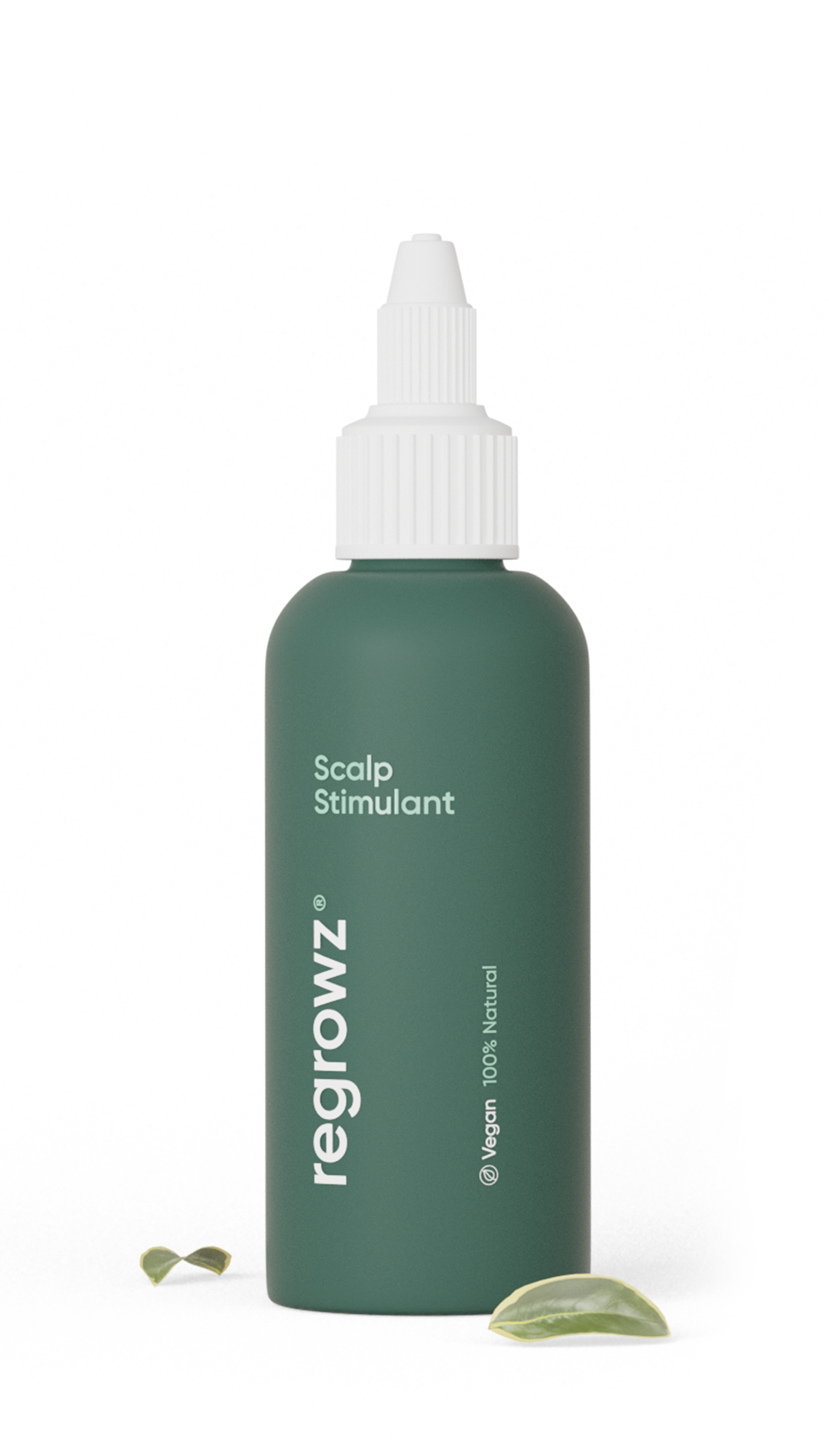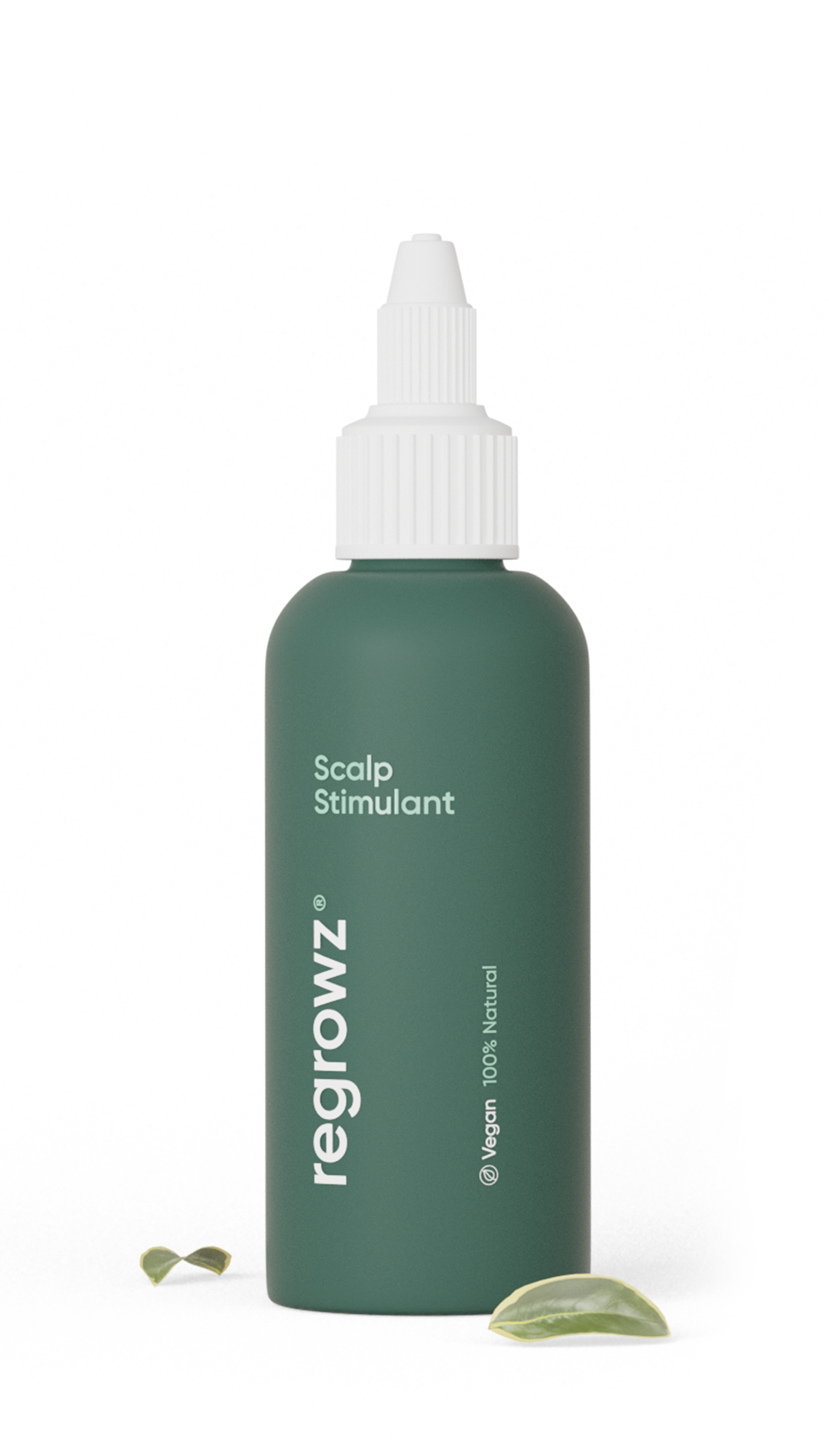 1
Apply the scalp stimulant
Use the dropper and apply 10 - 15 drops over the scalp where you are experiencing hair loss. Massage the solution into your scalp using your fingertips. You can also use a hair brush to encourage the solution to absorb into the scalp.
Wait 30 minutes for the solution to fully absorb into your scalp. Use the time to catch up on your favourite series - this time is for you.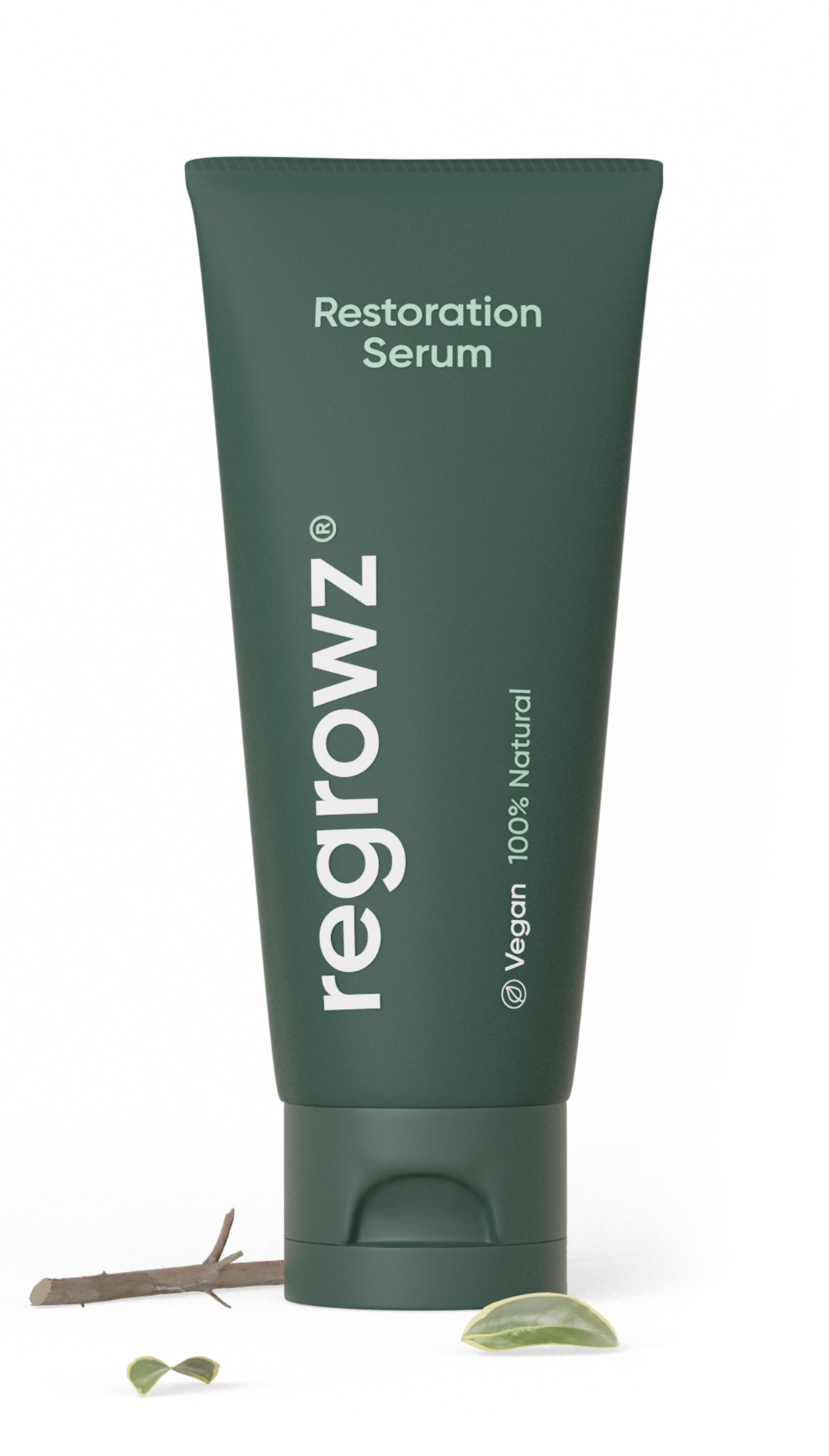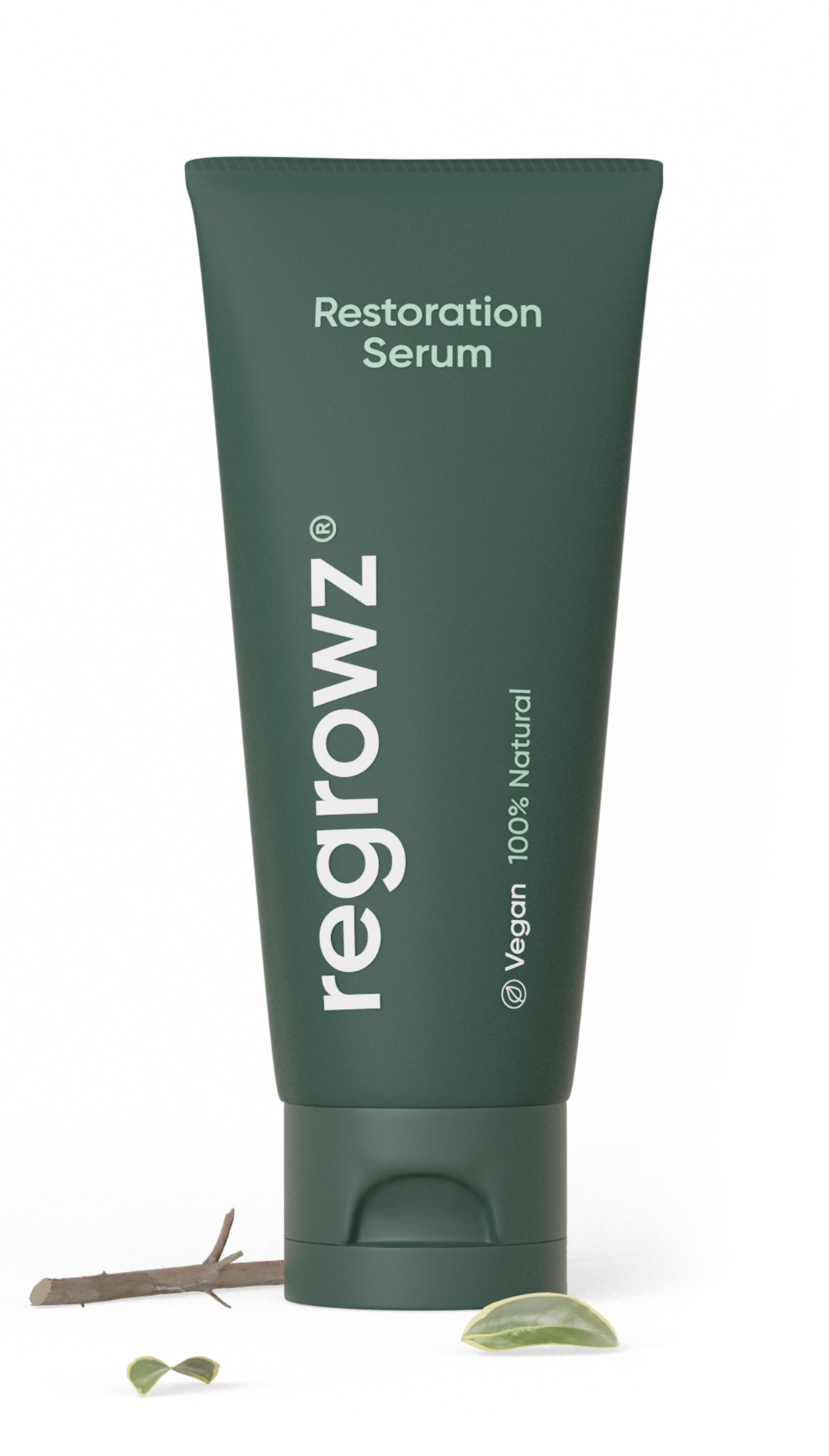 3
Apply the restoration serum
Time for the second product. Squeeze a few drops of the restoration serum into your palm, and evenly apply to the scalp where you are experiencing hair loss or thinning.
Massage the serum into your scalp for one minute, and leave it to absorb for a minimum of 60 minutes. Then, shampoo as usual. Or, leave it overnight or until your next hair wash.
What to expect
Results all depend on your hair type and how long you have been suffering from hair loss. Many of our users see positive changes to the condition of their existing hair within the first 30 to 60 days. The first change you will start to see is your hair feeling thicker. In the coming months, you should start to see healthier-looking hair growth and with ongoing use, you should be able to see nourished, thicker and healthier hair. For best and most noticeable results, use Regrowz as part of your routine for as long as possible.
Customer Reviews
Rated Excellent
Romarn
A game changer! Started to see results after around the first month of use, and results keep getting better, so happy!
Ingredients
100% Natural, organic and vegan
Coco nucifera oil
Cools the scalp and retains moisture, perfect for locking in shine. Its stability also prevents your hair from breaking.
Camellia sinensis leaf extract
Rich in antioxidants which have been associated with promoting scalp health and healthy-looking hair growth.
Allium cepa
Reduces hair loss by stimulating the scalp and hair. The sulphur helps with the production of collagen to promote hair growth.
Citrus limon
Effectively eliminates dandruff from the hair to promote hair growth, and cleans oil and dirt from the hair to make it smoother, softer and shinier.
Murraya koenigii stem extract
Strengthens hair roots and includes anti-oxidants to moisturise the scalp. Also rich in amino acids and beta carotene to prevent hair thinning and hair loss.

Aloe barbadensis leaf extract
Eliminates bacteria and combats excessive oil build-up and dandruff on the scalp. Also includes enzymes to moisturise the hair and promote hair growth.
Allium Cepa, Ocimum Sanctum, Trigonella Foenum-Graecum, Phyllanthus Emblica, Psoralea Corylifolia, Hibiscus Rosa-Sinensis, Camellia Sinensis, Murraya Koenigii, Citrus Limon, Aloe Barbadensis, Psidium Guajava, Pogostemon Cablin, Rosa Canina, Sapindus Mukorossi, Sapindaceae, Lawsonia Inermis, Acorus Calamus, Terminalia Catappa, Abelmoschus Moschatus, Sesamum Indicum, Crataegus Laevigata, Ecbolium Linneanum, Eclipta Prostrata, Terminalia Chebula, Combretaceae, Berberis Lycium, Adhatoda Vasica, Cuscuta Reflexa, Cuminum Cyminum, Bacopa Monniera L, Scrophulariaceae, Azadirachta Indica, Vetiveria Zizanioides, Tinospora Cordifolia, Triticum Sativum, Glycyrrhiza Glabra, Cocos Nucifera, Cera Alba, Citrus Limonum, Camellia Sinensis, Allium Sativum, Ocimum Sanctum, Melaleuca Alternifolia, Lavandula Angustifolia, Psoralia Cordifolia, Allium Sativum, Myristica Fragrans, Zingiber Offcinalis, Piper Nigrum, Cuminum Cyminum, Aqueous.