Regular price
$17.00
Sale price
$11.00
Unit price
per
You Save 35%
Sold out
Proven Results

Thickens Hair

Fast Results

30-Day Money Back Guarantee

Next Day Delivery
Our Hair Thickening Shampoo is proven to thicken, nourish hair and help hair grow on your thinning scalp.
Thickens Hair
100% Organic
Proven Results

30 Day Money Back Guarantee
Next Day Delivery*
225ml
Order before 2pm Monday-Friday for same day dispatch. All orders are sent using Royal Mail Tracked 24. We offer a 30 day Money Back Guarantee.
View full details
Why Buy Our Hair Thickening Shampoo?
Thickens Hair
Our shampoo will nourish and strengthen your hair, making it noticeably thicker.
Grows Hair
By strengthening and nourishing your hair, maximum hair growth will be achieved
Essential Vitamins
A bespoke blend of vitamins and minerals for the ultimate nutrients required for hair growth.
No Chemicals
No adverse chemicals, sulfates, paraben and silicone free
100% Organic
Plant based, all natural formula, developed for the ultimate results.
Quick Results
Our shampoo works fast, expect to see results after just a few washes.
Why Buy Our Hair Thickening Shampoo?
Plant Based
100%
Our Thickening Shampoo will help your hairline look noticeably thicker.
Customer Reviews
Rated Excellent
Jane
I never knew a shampoo could make such a difference in how my hair looks and feels. This plant-based thickening shampoo has genuinely transformed my hair game and I couldn't be happier. So good. Thanks, Regrowz!
Hundreds of
Successful

Results

Using the Regrowz Thickening Shampoo has led to hundreds of positive outcomes.
Why Does Hair Loss Occur?
Ingredients
100% Natural, organic and vegan
Saw palmetto
Effective in managing hair loss. Studies suggest that saw palmetto may help inhibit the activity of 5-alpha reductase, an enzyme associated with hair loss.
Pumpkin Seeds
Contain rich, fatty oils that promote existing hair growth, as well as Omega 3, B vitamins, magnesium, iron and protein - all great for the quality and strength of our hair.
Almond
Contains glyceride linoleic acid, a fantastic moisturiser, and Vitamin E which is key to healthy and clean skin. Its high magnesium content also promotes hair growth.
Rosemary oil
Rosemary oil has been traditionally used for hair care and is effective for existing hair growth.
Tea tree oil
A common ingredient in shampoos, tea tree oil has strong antiseptic, antifungal and antibiotic properties.
Aloe vera
Eliminates bacteria and combats excessive oil build-up and dandruff on the scalp. Also includes enzymes to moisturise the hair and promote hair growth.
Shea butter
Incredibly beneficial and moisturising for the hair and scalp. Soothes dry scalp and helps with dandruff.
Limonene
Known for its antioxidant properties, both internally and externally. If you're prone to dandruff, this will help.
Sodium Lauroyl Sarcosinate, Aqua, Lauryl Glucoside, Aloe Vera Leaf Extract, Algae Extract, Saw Palmetto, Neem Leaf Extract, Avocado Extract, Almond Oil, Coconut Oil, Shea Butter, Tea Tree Oil, Rosemary Oil, Biotin, Resveratrol, Holy Basil, Limonene, Linalool, Guar Gum, Xanthan Gum, Glycerine, Menthol, Tocopheryl Acetate, Alpha Lipoic Acid, China Root Extract, Wheat Germ Extract, Soap Nut Extract, Coco Mono Ethanol Amide, Ethylene Glycol Monostearate, Pumpkin Seed Oil.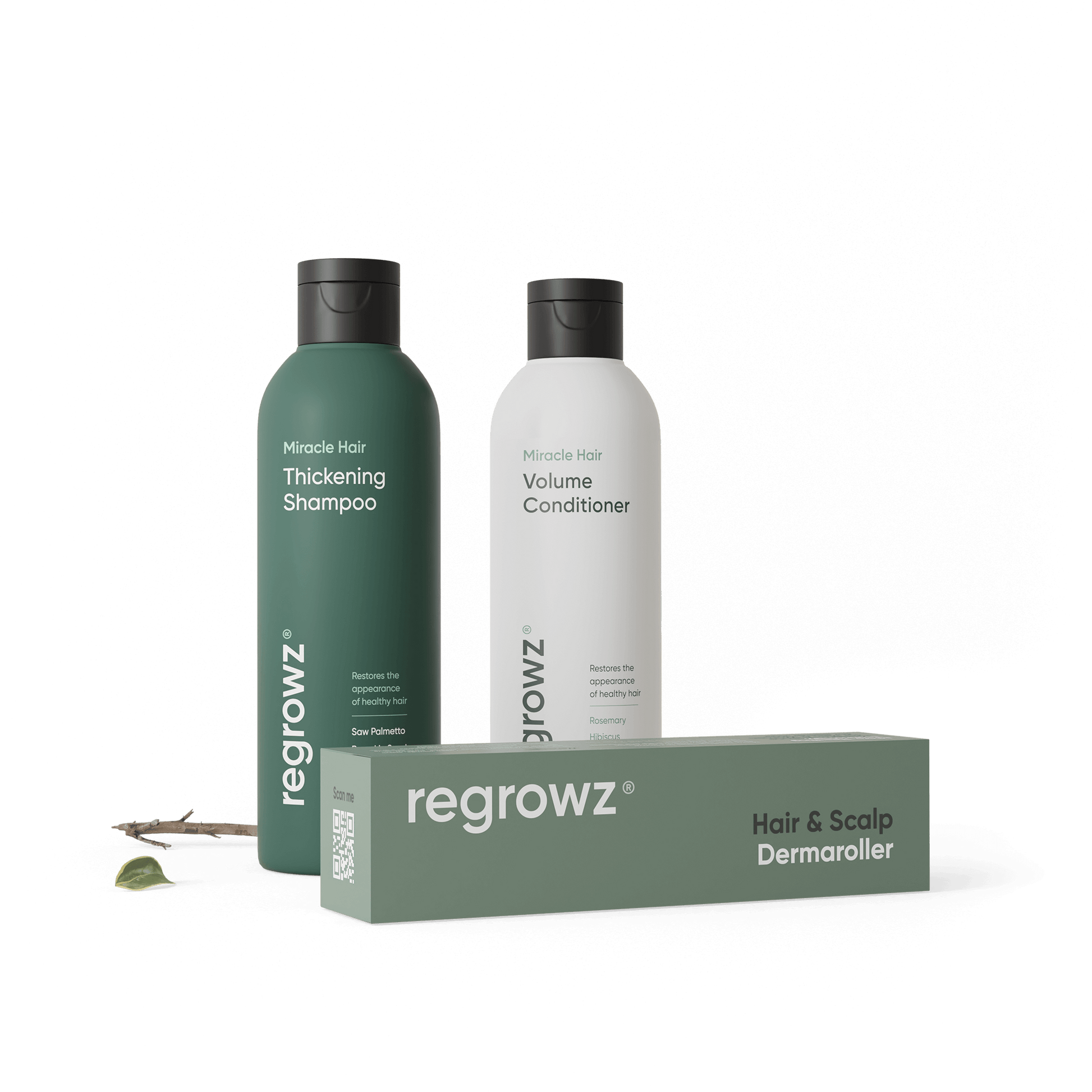 Complete Miracle Hair Kit
Regular price
$49.00
Sale price
$27.00
Unit price
per
You Save 45%
Sold out
Our exclusive bundle will give you the ultimate result in thickening, strengthening and growing your hair.
1 x Miracle Thickening Shampoo - 225ml
1 x Volume Conditioner - 200ml
1 x Hair & Scalp Dermaroller



View full details